High lift scissor lift table
Lifting heights up to 4.3 meters

The electro-hydraulic high lift scissor lift table is a lifting unit with superimposed scissors packages. This has the advantage that if the stroke is doubled, the platform dimensions do not need to be changed. This lifting table can be used as a working platform (assembly platform, no passenger transport), pallet loader or freight elevator, for example. Compared with a traditional lift, this lift table is a rational and cost-effective solution.
High quality execution "Made in Europe
Manufacturing according to DIN EN 1570-1
Extensive and modular range of accessories
Optional with installation and commissioning
Variants
Below you can see the lift table variants, sorted according to their load capacity
Load capacity up to 500 kg
Article-
number
Standard-
platform
L x B (mm)
Platform max.
expandable up to
L x B (mm)
Overall height
(mm)
Lift height
(mm)
Lift time
(sek)
Engine power
(kW)
Own weight
(kg)
Drawing
in PDF
Offer
request
120108
1350 x 1000
1700 x 1200
350
1800
19
1,43
370
120109
2250 x 1000
2600 x 1500
400
3200
40
2,86
550
Load capacity up to 1000 kg
Article-
number
Standard-
platform
L x B (mm)
Platform max.
expandable up to
L x B (mm)
Overall height
(mm)
Lift height
(mm)
Lift time
(sek)
Engine power
(kW)
Own weight
(kg)
Drawing
in PDF
Offer
request
120110
1350 x 1000
1700 x 1500
350
1800
22
2,86
370
120111
1500 x 1000
1850 x 1500
350
2000
22
2,86
400
120112
1800 x 1000
2150 x 1500
350
2500
32
2,86
475
120113
2250 x 1000
2600 x 1500
500
3200
49
2,86
770
120114
1650 x 1200
1950 x 1700
530
3300
41
2,86
665
Load capacity up to 2000 kg
Article-
number
Standard-
platform
L x B (mm)
Platform max.
expandable up to
L x B (mm)
Overall height
(mm)
Lift height
(mm)
Lift time
(sek)
Engine power
(kW)
Own weight
(kg)
Drawing
in PDF
Offer
request
120116
1500 x 1000
1900 x 1500
500
2000
28
2,86
550
120117
1500 x 1800
1900 x 2000
500
2000
28
2,86
690
120118
2250 x 1000
2650 x 1500
530
3200
41
4,6
790
120119
2250 x 1200
2600 x 1700
800
3800
42
4,6
1075
120120
2250 x 1800
2600 x 2000
800
3800
42
4,6
1200
120121
3000 x 1200
3300 x 1700
650
4300
44
4,6
1060
Designed for maximum 25 cycles per hour in 1-shift operation.
For internal use only – in a dry environment.
Not approved for the transport of persons
If the lift table is to be used in a pit, some important notes must be observed. Please download the pit layout. Do you have special requests – and would you like, for example, a lifting table in hot-dip galvanized design for outdoor use? Just send us your inquiry. We will check it for technical feasibility and let you know as soon as possible.
Standard paint: RAL 7012, basalt grey
Smooth sheet metal platform
Operating voltage: 3 x 400V / 50 HZ
Control voltage: 24 VDC
Hand switch with 3m connection cable
Aggregate outside the lift table
Contact protection strip all around
Customs tariff number: 8425420090
Warranty: 24 months
Load distribution according to the standard DIN EN 1570-01 applicable to lifting platforms



Variant 1
100% of the maximum permissible load distributed over the entire platform
Variant 2
50% of the maximum permissible load distributed over half the platform in the longitudinal direction
Variant 3
33% of the maximum permissible load distributed over half the platform in lateral direction
Variant 4
10% of the maximum permissible load, attached to the edge of the platform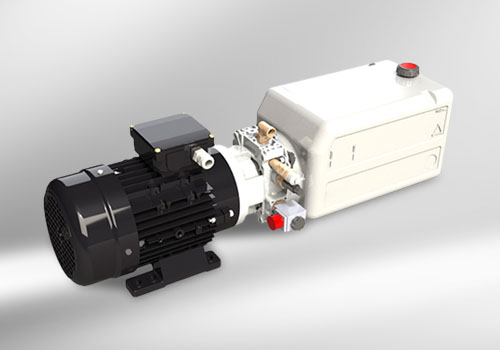 Hydraulic power unit
The hydraulic unit has a transparent oil tank for easy checking of the oil level. Furthermore, like all electrical components, the power pack has protection class IP65. The entire unit is protected against splashing and dripping water and runs particularly quietly thanks to the suction and return flow filters in the tank. The overflow valve on the oil tank completes the successful hydraulic unit. Depending on the lift table or requirements, the power unit is located either inside or outside the lift table.
Scissor packs
The torsion-resistant shears are made of rectangular profiles, which in contrast to flat steel profiles ensures greater lateral stability. In particular, the transverse loads on the bearings are minimized, which is beneficial to the service life of the bearings.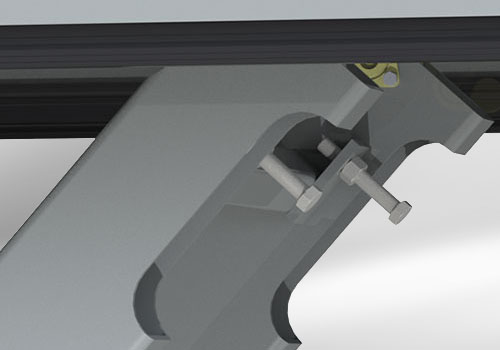 High quality machine parts
The automated production and processing of the components guarantee a reproducible production quality, which in turn enables a particularly high movement accuracy and an almost jerk-free lifting process. The extremely clean processing provides a perfect basis for the two-component paint, which guarantees a high level of corrosion protection.
Contact protection strip
The stable aluminium contact protection strip underneath the lift table platform minimises the risk of injury. As soon as it is lifted by e.g. an arm, hand, foot or an object, the limit switches located underneath the platform trigger the emergency stop function. Further lowering of the platform is thus prevented.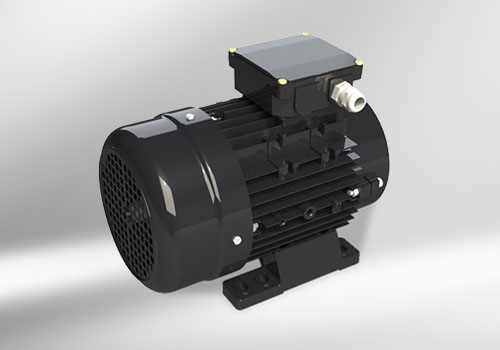 Engine
Der robuste Industriemotor, welcher stirnseitig am Hydraulik-Aggregat befestigt ist, besitzt selbstverständlich die Schutzklasse IP55. Ein Thermoschutz schützt den Motor bei Überlast vor Überhitzung und somit vor Schäden.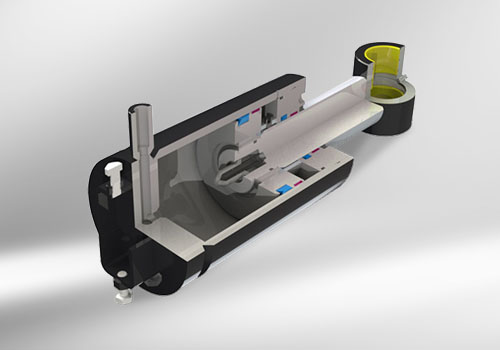 Lifting cylinder
The lifting cylinders of our lifting tables are always equipped with a pipe rupture safety valve, which prevents them from being lowered by a defective or leaking pipe. The hydraulic cylinders, which are equipped with end position damping, ensure a jerk-free approach to the end positions.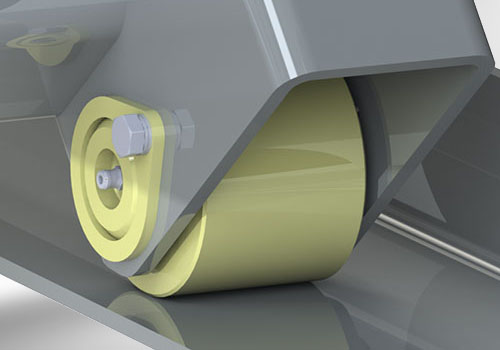 Fork rollers
The wide fork rollers, which run in the base frame, guarantee perfect load compensation and prevent transverse loads due to their design. The anodised surface and the lateral grease nipples considerably simplify maintenance and increase the service life of the lift table.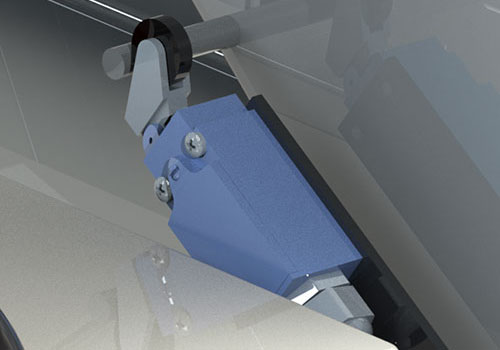 Hoist limit switch
Adjustable lift limit switches allow the end height to be varied and thus to be adjusted once to the spatial conditions during on-site installation. The setting can also be adjusted subsequently by loosening a screw and adjusting the limit switch manually.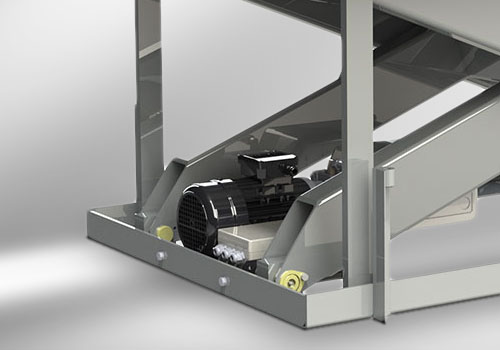 Maintenance Supports
The maintenance supports prescribed in the safety requirement according to DIN EN 1570-1 are folded down at the beginning of the maintenance and service work. They provide purely mechanical protection against unintentional lowering of the lift table platform. This ensures safe working under the platform or in the area of the scissors.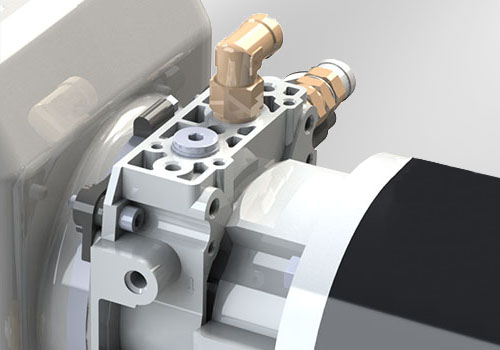 Lowering valve
The lowering valve, which is adjustable with a screw, ensures a constant lowering speed, independent of the load.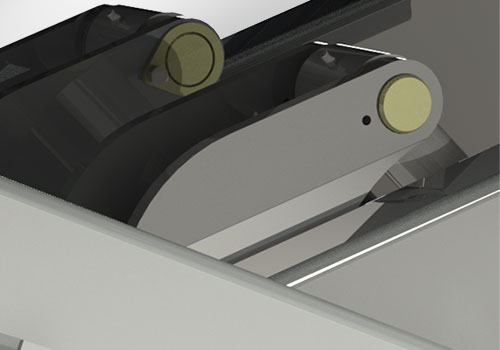 Depots
The lifting table is equipped with wide bearing designs, so that the load on the bearing points is reduced to a minimum. The anodized axles and bearing sleeves can be changed quickly and the grease nipples also simplify maintenance considerably.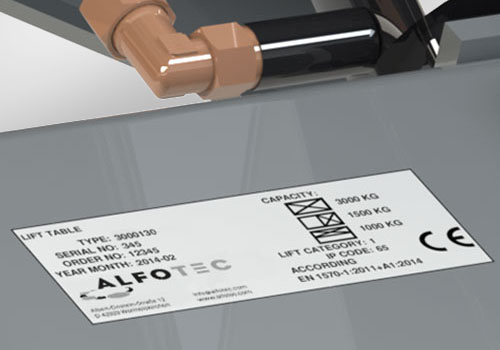 Type plate
The type plate contains the machine number and the CE marking. This indicates that a product complies with EC requirements imposed on the manufacturer. You can therefore be sure that the lift table has been manufactured in accordance with the applicable Community regulations and the corresponding conformity assessment procedures.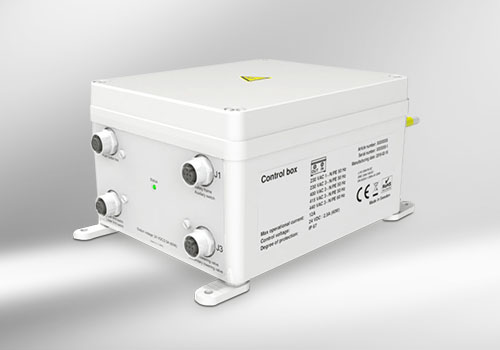 Control box
The standardized control box is equipped with M-12 screw connections and thus enables the quick and easy connection of supplied components, such as hand buttons or door interlocks. The assembly time can thus be greatly reduced!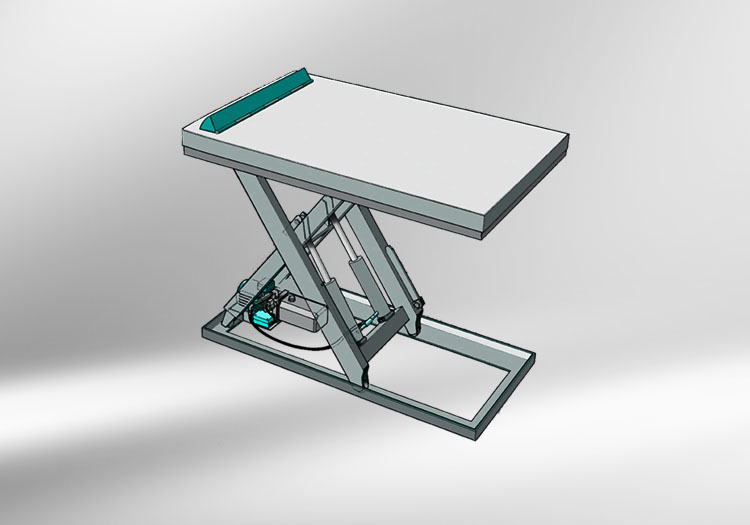 Roll-off safety
Prevents the goods loaded with lift trucks from rolling off the table. Mostly used at loading ramps and similar stations.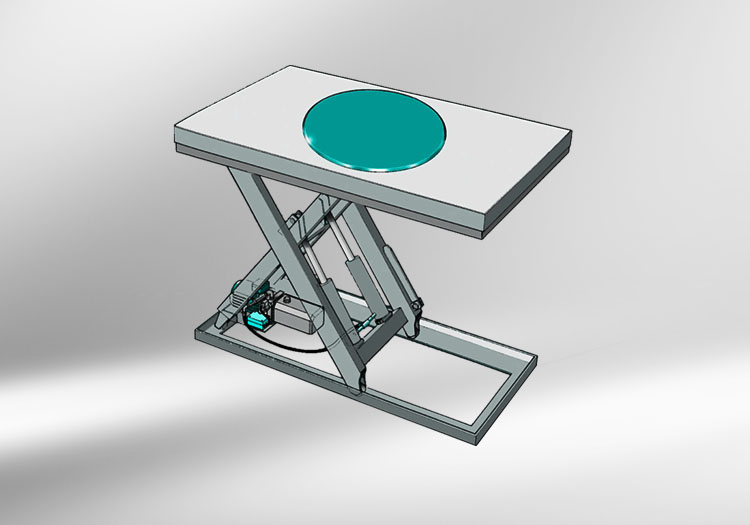 Recessed rotary platform
Turntable embedded in an adapter upper frame, matching the size of the lift table plateau.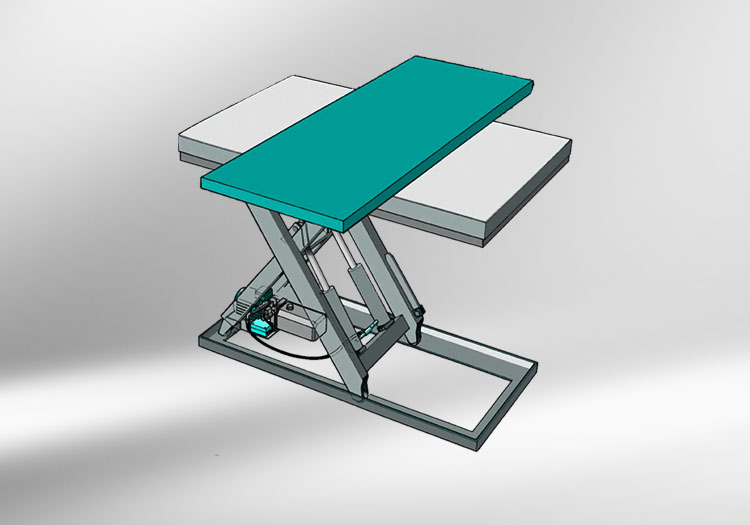 Rectangular rotary platform
Turntable mounted on top frame. The platform is electrically locked during the lifting and lowering process and can only be operated when the platform is stationary to prevent accidents.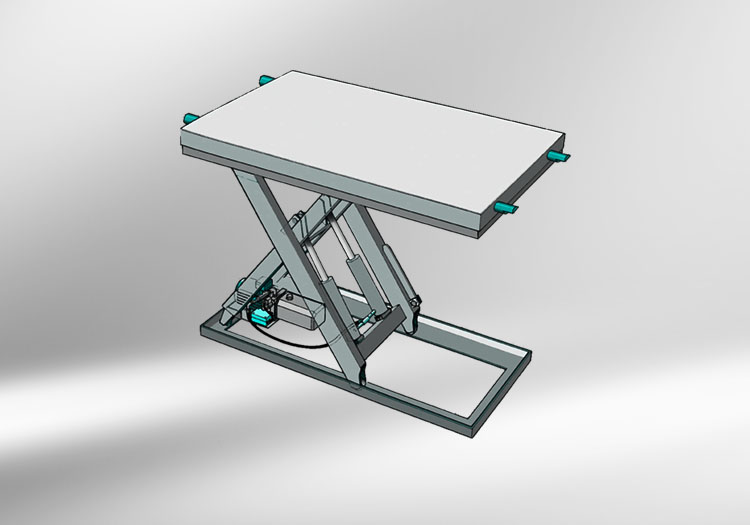 Platform interlock
Platform equipped with 4 or more locking bolts (actuation hydraulically or electrically), e.g. to fix the platform in position under load.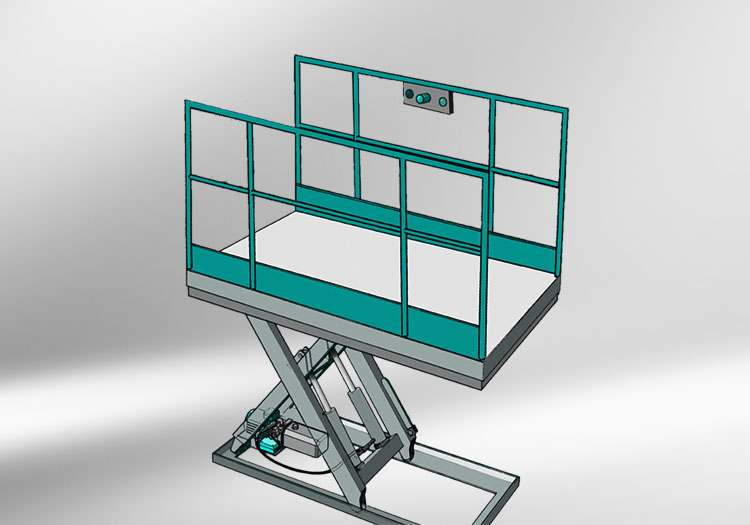 Safety railings
1,100 mm high, with foot protection and knee rail, as fall and stand protection, for lifting heights up to 2 m.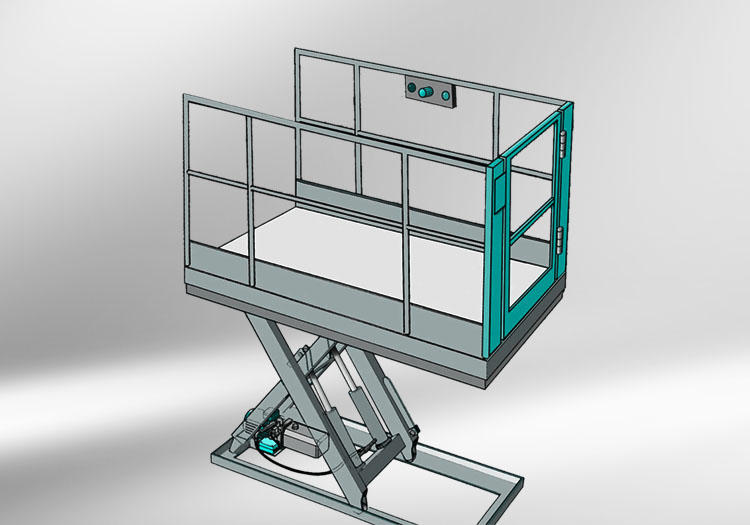 Self-locking revolving door
The self-closing and automatically locking door serves to secure the access side for lifting heights up to 2 m.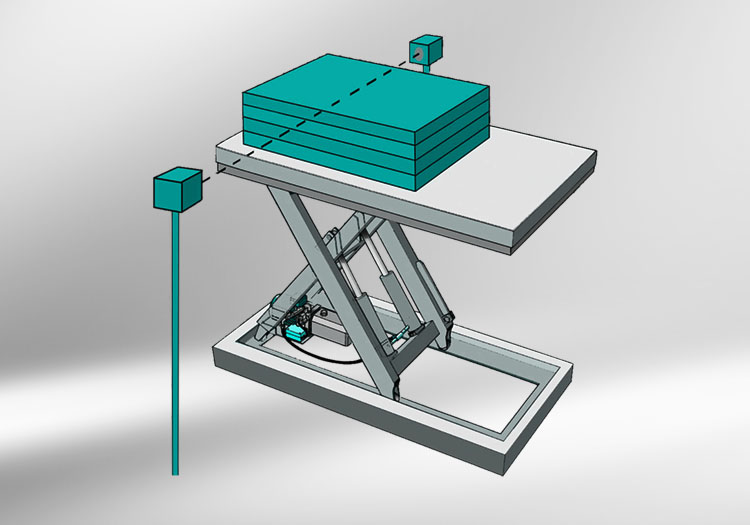 Height control
Direct acting photocell monitoring (without reflector). As loose or fixed installation. Monitors the correct platform height from the platform to the transfer station.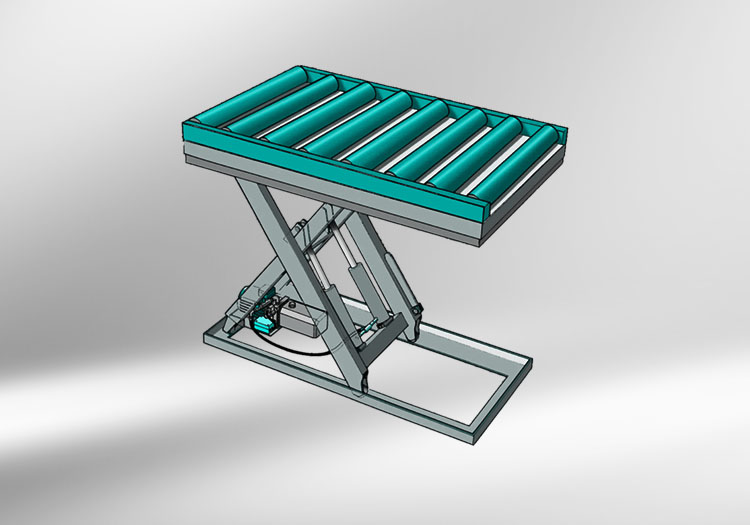 Roller conveyor
Roller conveyors or other conveying equipment (e.g. chains or belts) are often used in conveyor lines. These can be supplied individually.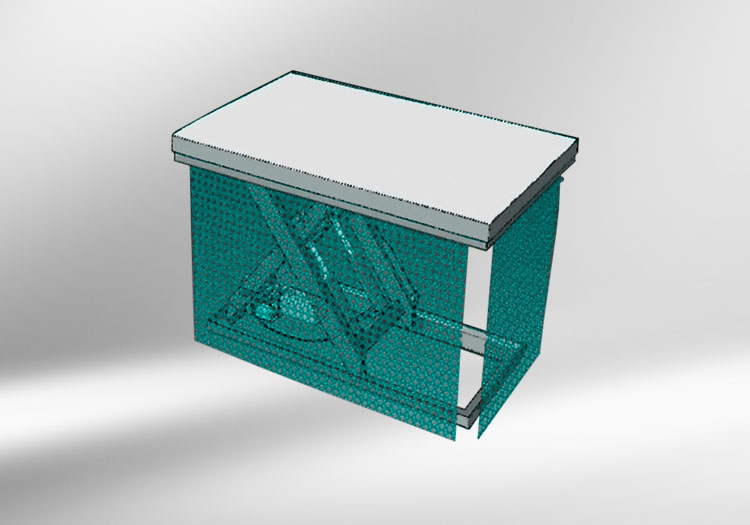 Chain curtain
Is an additional safety feature. Chain curtains can be offered in various configurations, depending on the application. The chain curtain, single or multi-sided, is used to prevent access to the space under the platform.